Wheel Balancing vs. Wheel Alignment

Wheel alignment and wheel balancing are two different services that can help keep your tires in top shape. Still, many Chicago drivers confuse these two services or don't fully understand the difference. If you've been wondering how wheel balancing vs. wheel alignments compare, find out with the service technicians at Valley Honda!
---
What is Wheel Balancing?
Having wheels out of balance can cause your steering wheel to shake or vibrate. This not only makes for an unpleasant drive around Chicago, but unbalanced tires can also develop varying tire wear. When your tire assemblies have uneven weight distribution or if a tire/wheel is out of round, balancing may be necessary. Our technicians will use precision machinery to analyze the tire to properly balance the wheels using small weights.
Having your wheels balanced extends the life of your tires, minimizes bouncing, and improves traction and control. In short, you'll save more money while enjoying a smoother ride on the roads of Wheaton. To keep up with wheel balancing, it's a good idea to check with your service technician if you need wheel balancing during your routine tire rotation.
---
What is Wheel Alignment?
A wheel alignment should be done when it is determined that it is needed. This service is performed by making adjustments to your vehicle's suspension components to ensure that the tires are as close to perpendicular to the road and parallel to each other as possible within Honda's alignment specifications.Typically, external forces are what can cause wheels to come out of alignment, including hitting a pothole or curb.Your alignment may need to be checked and then adjusted if your vehicle:
Pulls to one side or another
Has uneven tire wear
Steering wheel is off center
Had new tires installed (to protect your new tires from uneven wear)
Prolonged driving of your vehicle while being out of alignment can become a safety issue due to unnecessary wear and tear on your tires. To avoid excessive and uneven tread wear, it's important to have your wheel alignment checked once you realize the problem.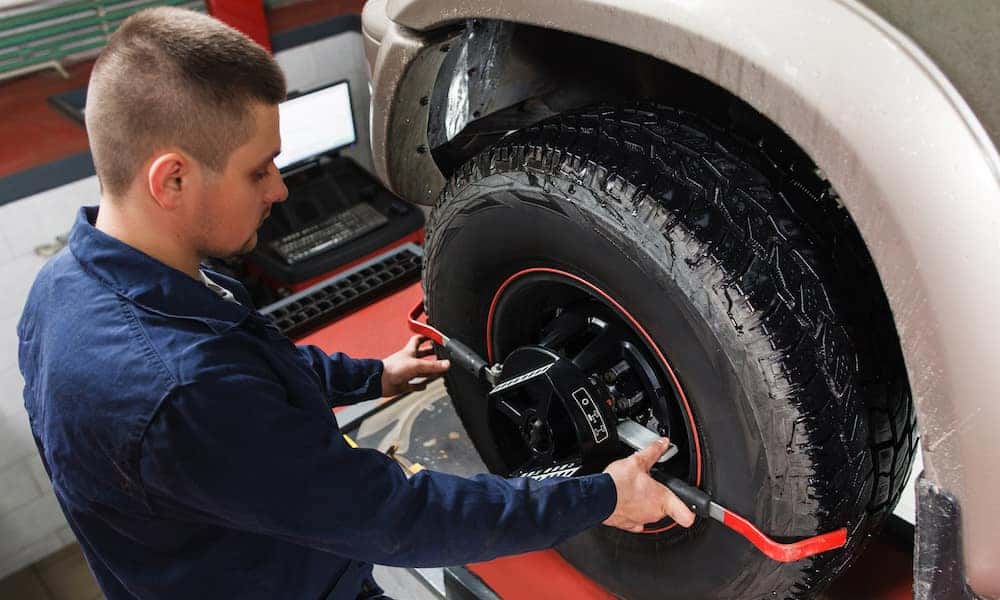 Scheduling Wheel Balancing vs. Wheel Alignment
If you find that your car is pulling to one side in Oswego, then it's time to schedule a wheel alignment. Meanwhile, a vibrating steering wheel in Naperville could signal that your wheels aren't balanced. If you're uncertain, feel free to reach out to someone at the Valley Honda service center.
Schedule Wheel Service at Valley Honda
At the Valley Honda service center, we can quickly diagnose your vehicle's issues and take care of your concerns. What's more, whether you need wheel alignment vs. wheel balancing, you'll find ways to save with our Honda service coupons.
---
Auto Service Coupons in Aurora
• Test Battery with ED18 Battery Tester
• Clean any Acid Corrosion from Battery terminals
• Inspect Alternator Belt
• Apply Battery Corrosion Prevention Spray on Terminals
Valid only at Valley Honda. Cannot be combined with any other offer. Honda vehicles only. Prices may be higher on some models. Coupon must be present at time of write up.
Valley Honda
4173 Ogden Avenue, Aurora, IL
Service: (630) 851-5700
Battery Check-Up
Free with Coupon Present
• Test Battery with ED18 Battery Tester
• Clean any Acid Corrosion from Battery terminals
• Inspect Alternator Belt
• Apply Battery Corrosion Prevention Spray on Terminals