What Should My Tire Pressure Be?


Having your tires properly inflated is essential to the proper functioning and safety of your vehicle. But what should your tire pressure be? Find out how to keep your tires properly inflated for your drives around Naperville, and how to get new tires when the time has come.
How Do You Know Tire Pressure is Low?
There are a few different ways to tell if your tire pressure is low:
Tire Pressure Monitor – If you're lucky enough to have a newer vehicle with a tire pressure monitoring system, in which a warning will show up on your dashboard that lets you know it's time to inflate your tires.
Tire Pressure Gauge – All you have to do to check your tire pressure is remove your tires' valve stem caps, put a tire pressure gauge into the valve stem, and press down. This will give you a PSI reading.
Poor Performance – If you're experiencing decreased responsiveness and ride quality in your vehicle, there is a chance that you have low tire pressure or low tire tread and should check it out right away.
What is Proper Tire Pressure?
Proper tire pressure can vary from vehicle to vehicle, but for most makes and models the recommended tire pressure is between 30-35 PSI (pounds per square inch). Avoid over-inflating your tires to max pressure or beyond in order to prevent poor braking and decreased tire life.
Recommended Honda Tire Pressure
When it comes to having the right tire pressure in your vehicle, this can slightly vary from each Honda sedan or SUV. Since both models have different performance capabilities, drivetrains, body types, and more, then the recommended CR-V tire pressure may be different from say the recommended Accord tire pressure. Check out the suggested tire pressure for Honda models below:
2020 Honda Pilot:

Front: 32 psi
Rear: 32 psi

2020 Honda Fit:

Front: 35 psi (high speed driving)
Rear: 33 psi (high speed driving)
Front: 33 psi
Rear: 33 psi

2020 Honda CR-V:

Front: 32 psi
Rear: 32 psi

2020 Honda Accord:

Front: 35 psi (high speed driving)
Rear: 33 psi (high speed driving)
Front: 32 psi
Rear: 32 psi

2020 Honda Civic:

Front: 32 psi
Rear: 32 psi

2020 Honda Odyssey:

Front: 35 psi
Rear: 35 psi
If you have a Honda model that is a previous year and aren't sure what your proper tire pressure is, make sure to check your Honda owner's manual or check the sticker inside your driver's side door, which looks something like this: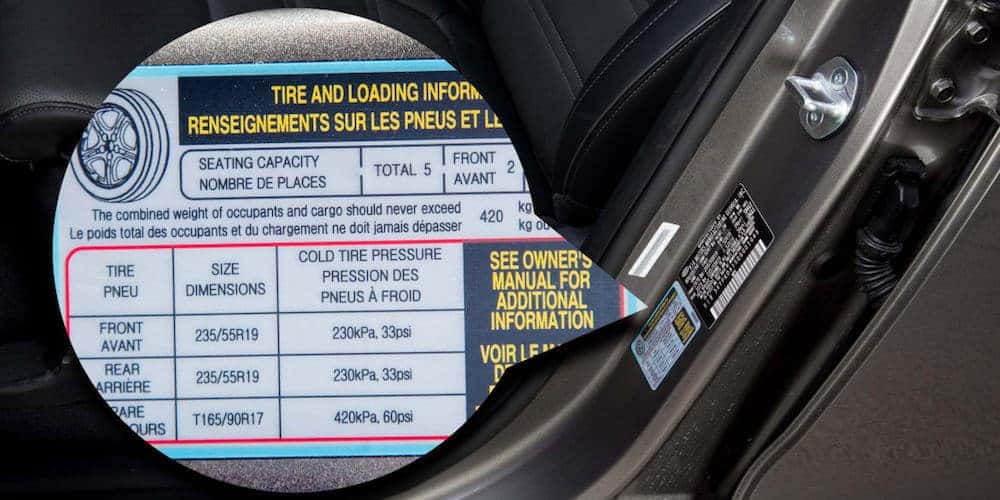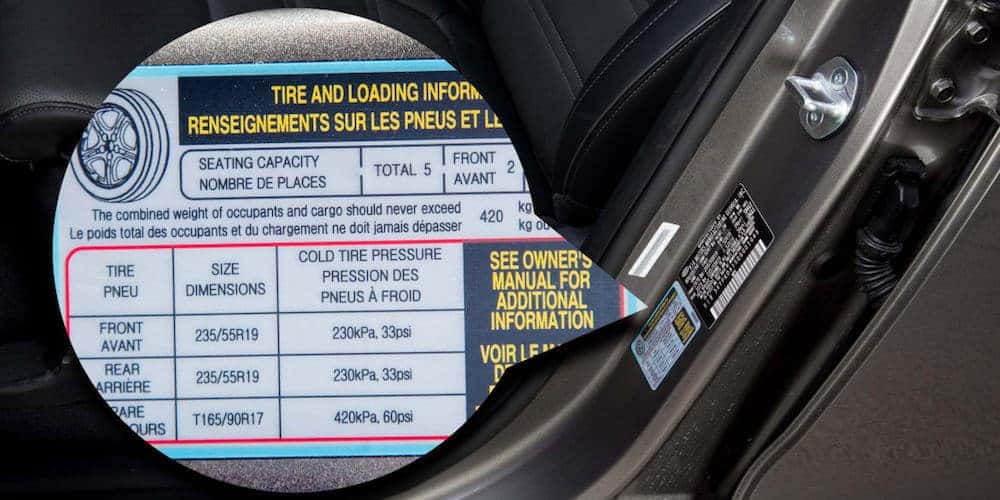 How Do You Inflate Your Tires?
It's a good idea to check your tire pressure every month or so, particularly as cold weather hits and changes the air pressure:
Bring your vehicle into your dealer to have the tire pressure checked free of charge.
Take your car to a gas station with an air pressure pump (this will most likely need quarters to operate).
Check the tire pressure with a tire gauge.
Adjust tire pressure as needed (if any of the pressures seemed to be low, have the tires inspected for leaks or punctures).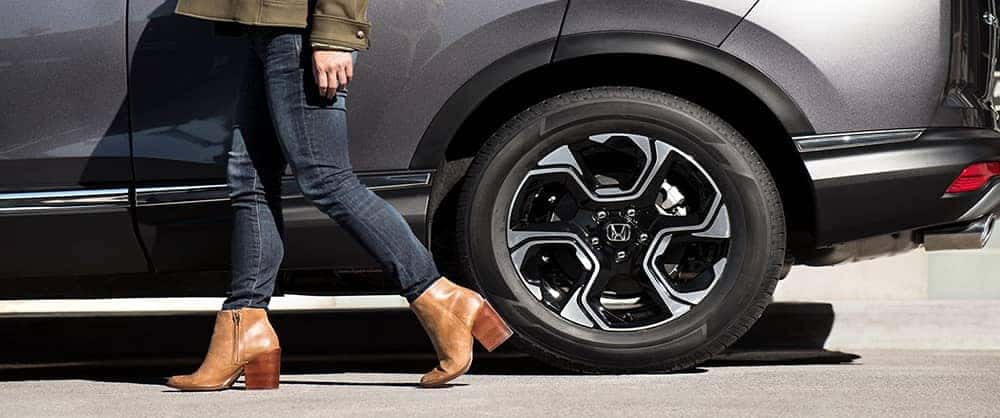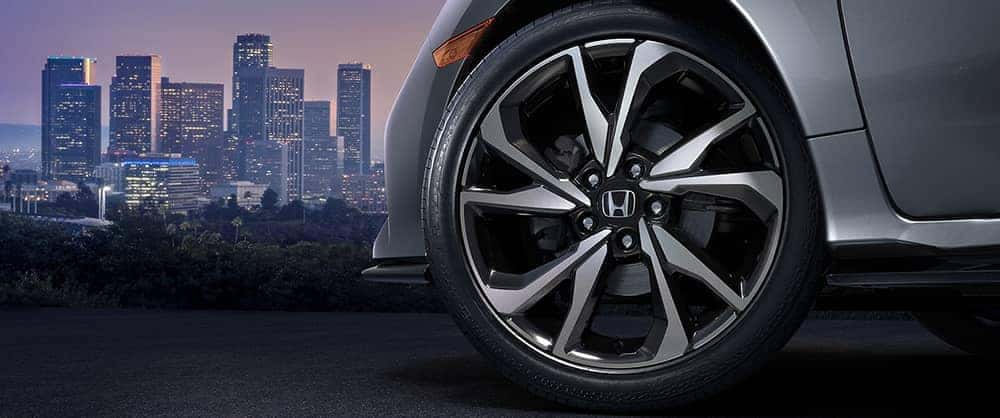 What Should I Know About My Indirect TPMS System?
If your Honda is equipped with the indirect TPMS (2016+ HRV, 2015+ Fit, 2014+ Civic/CRV, 2013+ Accord), the TPMS calibration will need to be initialized after adjusting your tire pressure. After meeting specific driving parameters, your TPMS (Tire Pressure Monitoring System) will complete its calibration. If the driving parameters (see below for more details) are not met, the low tire pressure light will illuminate again. Please follow the directions below or call us if this happens:
Inspect all 4 tires on the vehicle and verify there is not a flat or damaged tire and if possible, double check the pressure of the tires or bring your vehicle to Valley Honda for a tire pressure check.

If checking the tire pressures is not possible/convenient, and the tires do not look visibly low, perform TPMS calibration initialization by pressing the button to the left of the steering wheel or in the Vehicle Settings in the I-MID screen or on the Infotainment screen (refer to your owner's manual for instructions on TPMS calibration).

Once the calibration process has started, the vehicle will need to be driven

20-30

miles in speeds ranging between

30mph-60mph

.

The system will not store data for speeds outside of these parameters.

To check if the TPMS has calibrated properly, turn off the vehicle and put the vehicle into accessory mode (engine is off but the vehicle is on). If the low tire pressure light does not blink after one minute, the calibration is complete. If the light blinks between 45-60 seconds, the drive (step 3) has to be performed again.
*The indirect TPMS does NOT use tire pressure sensors mounted on the wheels. Instead, it uses the VSA/ABS wheel speed sensors to monitor and compare individual tire speeds while driving. Whenever the calibration is started, the TPMS control unit learns the tire characteristics during the calibration drive.
Is it Time to Get New Tires?
As your tires get older, they are less likely to hold air properly, and they can become dangerous to drive on and can increase the risk of a tire blowing out even when properly inflated. Get new tires at quickly and affordably at Valley Honda, your trusted Chicago area service center near Naperville. We open at 7:00 a.m. Monday through Saturday, and you can reach us online or by phone at (630) 851-5700 to set up an appointment!
More From Valley Honda
Looking for a subcompact SUV that's agile enough for Chicago traffic and roomier than a sedan? You'll want to get a closer look at the Honda HR-V interior! This smart SUV is a breeze to maneuver in small spaces yet the HR-V cargo space expands to 55.1 cubic feet! What's more, the HR-V seating doesn't…

Introducing the all-new, redesigned 2023 Honda Civic Type R: the fastest model in the Type R family to date and the most powerful Honda-branded vehicle ever offered! Combining advanced performance technology and sophisticated design cues, the 2023 Civic Type R achieves racetrack-ready speeds and a behind-the-wheel experience that no rival can touch. Honda ResearchNew Civic…

For drivers across Chicago, the Honda Pilot's 2023 redesign is something to get excited about! The powerful and fuel-efficient 3-row SUV is getting new standard interior features and a sporty exterior update that includes a larger grille and squared-off headlights and taillights. On top of that, the TrailSport trim level (which joined the lineup in…